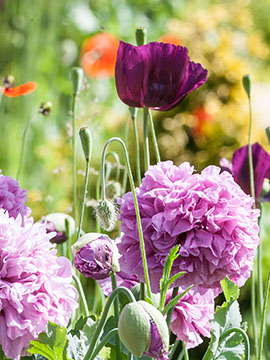 Obituary of Eloise "Billie" McKig
Please share a memory of Eloise "Billie" to include in a keepsake book for family and friends.
Eloise "Billie" McKig
November 29, 1923- March 23, 2023

Our beloved Eloise (Billie) McKig went dancing with the stars in Heaven on March 23, 2023, in Onondaga County, New York, nearly 100 years after she entered this life. She is survived by her two daughters, Rev. Monica E. Styron and Susan E. McKig; her two grandchildren, Keith A. Hernandez and Ana Gabriela Hernandez-McKig; and the three children of her late sister, Patricia "Patty" Brake; Cathy Warner, William Brake, and Philip Brake.
Billie was born November 29, 1923, to Hazel Delores Staley Olson and Mark Ethan Olson of Forest City, Iowa, were her parents. In their younger years, Billie and Patty's early life wasn't a simple one. Their father died when they were young, rendering their mother, Hazel, a single parent during a time when working mothers were few. Charles (PaPa) was a wonderful stepfather who remained significant in the girls' lives. Hazel's first job was managing a boarding house in Chicago. She took on additional jobs, and each new position required the three of them to move, and the girls had to change schools nearly every school year. Hazel eventually earned a secretarial degree and became the secretary to the prestigious Judge Kavanaugh of Chicago, allowing the family to settle. Hazel then met her future husband, the charming Charles R. Littler, a Junior Purchasing agent with the railroad, who quickly became steadfast friends with the teenaged Billie and Patty, spoiling them with the family attention they craved. Soon after, they moved to a Chicago suburb, Elmhurst, and the girls flourished with their newfound stability–and finally remained in one school throughout high school.

Even amid the Great Depression, teenaged Billie and Patty thrived in their social life; Billie was the flirtatious and fickle one, and Patty was the innocent beauty. They socialized at every opportunity, going out on dates in big groups with the other fun and fashionable girls, the team captains, and handsome "jocks." The sisters continued their education at the University of Colorado, even though it might not have been for academic purposes (Billie referred to it as going for her MRS degree). They joined sororities and partied with the fraternities. They were venturing out into the wider world.
The following year Billie went separately to join the much warmer climate of the University of Miami. There she bonded with a Cuban girl (Josefina Diaz) who'd later invite her to skip the second semester and instead visit her family in opulent Havana, Cuba. Even though her friend returned to Miami to continue her studies, Billie was intoxicated with the exciting life of Havana and chose to stay for an entire year. Billie often reminisced about the long and balmy nights dining and dancing at the Tropicana Nightclub with her family, Club Miramar, and other booming cabarets during the early 40s and 50s. Billie's passion for learning the latest Cuban dance styles was infinite– the Mambo, the Samba, the Rhumba, and the ChaChaCha. She reminisced about her life of midnight snacks at the Diaz house Guayaba, gooey guava paste, onto crispy crackers laden with cream cheese. Another delight she craved was Flan, similar to creme caramel, made of eggs, condensed milk, cream, and flavorings with sugar sauce, a dessert she continued to make for her friends and family.
During her stint in Cuba, she met her first husband, Lt. Col. Woodland M. Styron, a dashing WW2 Air Force pilot, with whom she'd later have a baby girl, Monica, in 1947. However, Billie would soon discover that Woody wasn't the marrying kind, and when Monica was 18 months old, they parted ways. Just as her mother Hazel had done, she courageously took on the role of a single mother. After hearing that the field of Dental Hygiene was a promising new profession for young, independent women, Billie enrolled in the Dental Hygiene program at a Jesuit University, Marquette, in Milwaukee, WI, with little Monica in tow. There, she befriended her dear, life-long mentor and confidant, Father Arnold. He encouraged, looked after, and protected this spunky divorcee throughout her academic years and the following decades.
In the summers between academic years, the loyal Hazel and Charles supported their ambitious daughter Billie. They welcomed their little granddaughter to the family's summer home in Lac du Flambeau, Wisconsin enabling Billie to enjoy a bit of social life. Also known to the grandchildren as ChuChu and PaPa, they were fantastic and loving grandparents over the following decades.
Dental Hygiene was a new career in dentistry (the ADHA launched in 1923), so like other ambitious Hygienists, she had to break her way into the field. After graduation in 1951, Billie headed west in her Chevy Impala convertible to begin her career in Chico, California, near Patty, who had already started her family there. After introducing dental Hygiene to many dentists, she found five willing to take her on once a week. The following year, she and Monica moved to sunny San Diego, CA, where she would start her 25-year stint at the offices of Drs. Ayers and Guchard. She'd spend her next decades working hard, raising young Monica, and socializing when the opportunity arose.

In 1961, Billie encountered her future husband, Dr. Robert (Bob) McKig, while mingling at a Dental party; a single parent of young Jennifer Lynn, who was 7 when the couple met. The two courted for a while, went on many daughter-chaperoned dates, and finally married on August 31, 1962, in a rustic chapel in a Mission in Riverside, CA. The newlyweds purchased a home together in Kensington, a quiet San Diego neighborhood. The following year, Billie gave birth to her second daughter, Susan Elaine (Suzie) McKig, who also grew up in this home.
Joining her husband's new solo dental practice for two years, Billie and Bob created a welcoming work environment for their patients. Bob enjoyed being hands-on in his first dental lab, personally building crowns and bridges and even casting gold jewelry for Billie. Even though he thrived at work and in his garden at home, Bob suffered from a weak biliary tract. Billie tirelessly cared for him, seeing him through many life-threatening surgeries. She juggled her numerous visits while Bob was hospitalized, her work, and raising Suzie. Unfortunately, Bob died of a heart attack in 1979 at 55.
Billie remained a single widow until 1981 when she met her third husband, Rexford G. Wait. He was her equal for having a good time, charming others, and enjoying nights on the town. They'd spend the 15 years hosting parties, traveling to Europe, visiting grandkids, skiing with family, moving to Beverly, MA, for a few years, then moving back to San Diego. When the party was over, they parted ways, but Billie continued her job and family life and enjoyed going to her favorite spots in Old Town, Fashion Valley, and La Jolla with friends. Billie loved her career to the extent that she entertained and assisted her patients until 2002 when she was 78.

Billie missed her calling as an interviewer. Whenever she ventured out on the town for shopping or lunch (usually at Nordstrom's), she was guaranteed to spark a new conversation with a stranger. She had this way of putting people at ease; they felt comfortable in her presence. It became a family saying that whomever she would meet, she'd "know their life story by the end of the conversation." Billie was the life of any party and an inspiration to others to live life to the fullest. She was a loyal friend throughout her life, always lending a sympathetic ear, her company for lunch on the- town or by hosting one of her famous gin and tonic club evenings. When she or one of her friends moved away, she continued to be a loyal pal through long chats on the phone or cheerful handwritten letters.

Upon turning 81, Suzie invited Billie to join her in Berkeley, CA. The two of them found an ideal house with enough space behind it to build a small in-law small home. Her architect designed a beautiful cottage with a big porch to enjoy the garden and the local wildlife: squirrels, birds, bees, and the family's grumpy tabby cat, Lilu. Her cottage was so stunning that Fine Home Building magazine featured it on its cover, the book "In-laws, Outlaws and Grannie Flats" devoted a story to it, and the Wall Street Journal included it in their article on trends in multi-generational dwellings. Being a stone's throw from Suzie and her family, Billie enjoyed 17 years of family life there, ensuring she was safe, cared for, and healthy. She and her favorite grandson, Keith, enjoyed brunch nearly every weekend. Together, they'd all enjoy barbeques, Thanksgiving dinners, birthdays, Christmases, Easter, countless family meals, and an Art Deco-themed 90th birthday celebration with her friends and family from all over the country.
Social clubs had always fascinated Billie, mainly because they were an opportunity to meet new people. She joined PEO in San Diego and again in every new city she lived in. In Berkeley, she ventured further with the Garden Club, the Oakland Art Club, and various Bridge groups. The adventure-seeking club was the Red Hatters, which combined her passion for fashion and adventure. During one of the Red Hatter trips to Reno, a film crew immortalized Billie's dance moves–atop a dining car table, no less!

Billie advocated the education of her two daughters and encouraged their interests and opportunities. Borrowing from her international experiences, she encouraged worldliness to enrich the young minds of her girls, assuring they both had semesters abroad to learn new languages and have a broader world perspective. She carried this belief to the next generation by enjoying travels and local trips with grandchildren, Keith and Gabriela.

At age 96 and with advancing dementia, she relocated nearer to Monica into a welcoming assisted living residence amongst horse pastures and woods just outside of Boston, in Ipswich. The onset of Covid-19 hit just afterward, but luckily, all residents remained free from harm. Billie continued to shine her light even throughout the lockdown. After several months the social activities returned, and she showered her charisma during the Cocktail Hour meetups in the social lounge. In true Billie fashion, three resident gentlemen were smitten with her until she moved two years later, even closer to Monica.
Her social life wound down at her next residence in Manlius, NY (just outside Syracuse), as the stroke she'd had a year earlier dampened her dance moves. Thankfully Monica was close by and could visit her several times a week to love and care for her. Keith flew out from California several times to hang out with his beloved Grandma. They watched the Warriors basketball games together for years and continued until the end. Even bedridden, Billie never lost her zest for looking forward. And she kept that silly Billie sense of humor right to the end, always adding a dash of sass. Her career plans extended into the afterlife, projecting her next job to be an Activities Director in Heaven, creating a fashion show for those in a similar situation as herself. She'd create a brilliant fashion show with a theme around exciting, bold-colored adult pull-ups that would be much snazzier than the dull and lifeless she had to wear.
We will always love and miss you, our life of the party: Billie.
If you'd like to make a Billie E. McKig Memorial Gift here are two of her favorites:
1. American Indian College Fund, P O Box 172449 Denver CO, 80217-9673
501(c)3 EIN 52-1573446 Designate for "Scholarships"

2. ADHA (American Dental Hygiene Association) of Oral Health
444 Michigan Ave, Suite 400 Chicago, Ill 60611
501(c)3 EIN 36-3468143 Designate for "General Scholarship Fund-California"
Share Your Memory of
Eloise "Billie"
Frasier-Shepardson
1217 North Salina Street
Syracuse, NY
13208
Tel: (315) 471-2349
Fax: (888) 313-5935
​Email: info@shepardsonfh.com
Goddard-Crandall-Shepardson