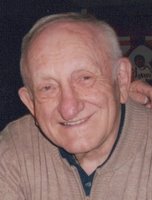 Edward M. Zacharek
Edward M. Zacharek, 89, of East Syracuse, died on Tuesday at the Syracuse Home. He had retired as a Service Manager from Executive Office Systems. He was a veteran of the US Army. An avid golfer, he was the Onondaga County Junior Golf Champion in 1947, and a member of several leagues throughout his lifetime. He and his wife enjoyed taking cruises in the Caribbean and spending summers at Sacandaga Lake and in the 1000 Islands.
He was pre-deceased by his wife Elizabeth "Betty"; his parents Gregorz & Cecilia Zacharek; an infant son Gregory; and siblings: Jane Baniewicz, Walter, Stephen & Joseph Zacharek, Josephine Demianyk.
He is survived by his daughters: Linda (Joe) Zuber of Chittenango, Joan (Paul) Burdick of Baldwinsville, Mary Jo (Jim) Sawyer of Kirkville; sons: Ed (Robin) of Eastwood, John (Jennifer) of Niskayuna; grandchildren: Andy, Rick, David Zuber; Sarah (Burdick) Conord, Ken Burdick; Dan Sawyer, Laura (Sawyer) Brewster; Valerie (Zacharek) Houtenbrink; a sister Celia Guzikowski of Morehead City, NC; 17 great-grandchildren; and several nieces and nephews.
Funeral services will be held Monday at 10:30A.M. at the Goddard-Crandall-Shepardson Funeral Home and at 11 A.M. in St. Matthew's Church with burial to follow in St. Mary's Cemetery, Dewitt.
Calling hours will be Sunday from 2-5P.M. at the Funeral Home, 3111 James Street, Syracuse.
Memorial contributions may be made to Unity Acres.
The Zacharek family would like to thank the staff at the Syracuse Home for their care and support.