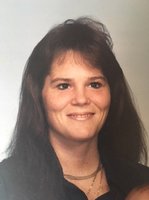 Pamela J. DeHoog
Pamela J DeHoog, of DeWitt, was born in Rome, NY on October 27, 1966. She passed away peacefully early morning Saturday November 2nd with her family by her side. She grew up in Rome and later moved to Ohio where she graduated from Worthington High School in Columbus in 1985. Pam was a long time waitress at the Steak and Sundae on James St, and later worked for ten years as a bartender at the Dark Horse Tavern in Dewitt. Pamela was an avid reader, enjoyed listening to music and loved cats. Her favorite time was summer, and she enjoyed spending time on her deck and floating around in the pool. Pamela is survived by her father Andee Kaskiw of California, mother, Linda Kaskiw of Columbus, Ohio, husband Victor, son Joshua and daughter Olivia. She is also survived by her sister Lisa Larkins of Columbus her two sons and dear friends Mellony Spinelli and Angela Alcaraz of Rome.
Calling hours will be 4-6 pm Wednesday November 6 at University United Methodist Church, with a service to follow at 6.
Donations can be made to the University United Methodist Church.