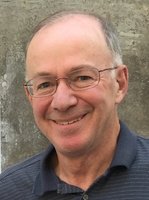 Nicholas C. Pallotta
Nicholas Pallotta, 71, of Syracuse, passed away on October 10, 2019 after four years of cancer treatment. Nick died at home surrounded by his family.
Nick was known for his kindness, wry sense of humor, and love of donuts. His 40-year career was devoted to improving the lives of children. Nick held an MSW from Syracuse University, and retired the first time after 30 years with Onondaga County DSS Child Protective Services. He then worked for agencies that included Elmcrest Children's Center, Professional Counseling Services, and the NYS Connections Child Welfare Program. Nick's final retirement was from his position as the coordinator of St. Joseph's North Link Outpatient Clinic.
Nick will forever be missed by his wife, Eileen, and four children: Shana (Kristen Ochoa), Christopher, Gregory, and Emily (Ian) Allport; granddaughter, Vivian Allport; and Paloma, who called him "Grandpa N." Nick is also survived by his brother Robert (Laura), and many sisters-and-brothers-in-law, nieces, nephews, cousins, and his in-laws, Joan and Erwin Pacia.
The family wishes to thank Dr. Jeffrey Kirshner of HOA of CNY for four years of exceptional care, as well as the HOA staff for their unfailing kindness and professionalism. The family also expresses its appreciation to Dr. Rebecca Suk-Heist of Massachusetts General Hospital and Dr. Aaron Bianco of Syracuse Orthopedic Specialists.
Calling hours will be held on Friday, October 25 from 4-7 p.m. at Goddard-Crandall-Shepardson Funeral Home, 3111 James Street. A service will be held Saturday the 26th at 11 a.m. at the funeral home.
In lieu of flowers, please consider a donation to Hospice of CNY, 990 Seventh North St., Liverpool, NY 13088, or donate online at www.hospicecny.org/memorial-donation.