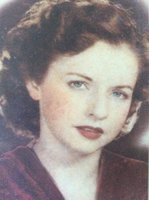 Cecelia V. Edwards
The beautiful soul of Cecelia Edwards left in the early morning of September 4, 2019. She passed peacefully at the Nottingham Skilled Nursing Facility where she has lived since 2012. Cecelia resided in Syracuse and surrounding areas all 95 years of her life. As through her long life in her frailty she was courageous and graceful.
Born in 1923 Cecelia was the last of seven children of immigrants Felicia and Walter Rokowski. In the early 1900's traditional Polish lands were dominated by Imperial Russia to the east and a militaristic Germany to the west. Her parents fled the chaos of Eastern Europe to begin a better life in America. Traveling through New York City's Ellis Island they made their way upstate and settled in Central New York.
When Cecelia was eleven her father died. She and her mother moved into a small home cobbled into the garage behind the home her father built on North Midler Avenue. Through the Great Depression they took in borders for income and Cecelia's mother worked as a custodian in factories near their home.
Nearly ten years younger than her second youngest sister, Cecelia grew up independent, resourceful and determined. Traits that all who came to know her can fondly recognize. She attended Taft Middle School and Eastwood High School and then studied business and secretarial studies after high school.
Cecelia went to work for Fehlman's Automotive as a bookkeeper. While employed there she met her future husband Richard who worked across the street at the Syracuse Gauge Company. After Richards service in WW II they renewed their relationship, married in 1949 and began their family. They rented a home briefly in Liverpool and then built a modest home on Hillsdale Avenue in Eastwood. Upon the arrival of their sixth child they moved to a larger home on Hickock Avenue. Eventually they moved to the suburbs of Marcellus and then back into the Sedgwick neighborhood.
Concurrent with raising six children Cecelia and Richard grew a successful manufacturing business. In 1956 they purchased the Syracuse Gauge Company where by then they both worked. For forty years they grew the business into a national scale enterprise. Cecelia cherished the friendships she developed with the hundreds employed at "the Gauge" over the years. She and Richard sold the business in 1996 providing them both time and resources to retire.
In retirement Cecelia focused on a new home on Rugby Road, gardening and spending time with her family, especially her grandchildren.
Cecelia is predeceased by her parents Felicia and Walter Rokowski, husband Richard Edwards, daughter Teresa Ellen Edwards, sisters Stella, Genevieve, Pauline, Helen and brothers Walter Jr. And Walter III.
She is survived by her children: Patricia (Antonio Carretero) Edwards of Austin, TX; Kathleen Edwards O'Toole of Syracuse, Christine (John Fugo) Edwards of Chapel Hill, NC, Mark of Syracuse, Susan (Bill Messe) Edwards of Syracuse; 5 grandchildren: Cristina Carretero, Devin O'Toole, Brendon Fugo, Rick and Brian Messe; 4 great grandchildren: Carolina, Brianna, Liam, Katherine; and several nieces and nephews.
Calling hours for Cecelia will be Saturday, September 7 at the Goddard-Crandall-Shepardson Funeral Home from 10am-12pm with a service at the conclusion. Interment will be in Woodlawn Mausoleum.
In lieu of flowers please offer donations to the Ronald McDonald House.