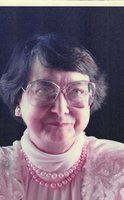 Norma Guenveur Hamilton
Norma Guenveur Hamilton, of Syracuse, died on May 13, 2019. She was born in Charleston, South Carolina. Her parents were Joseph Paul and Mae Montgomery Guenveur. She had retired as a public health nurse for the NYS Department of Social Services, but remained a nurse all her life. Norma is a beloved daughter, wife, mother, grandmother and great grandmother who took care of her parents, siblings, and grandchildren. Norma was a member of Blessed Sacrament Church, a member of the Choir and Altar & Rosary Society, and served as a lunch room monitor in Blessed Sacrament School.
She is pre-deceased by her husband Dr. Charles Howard Hamilton; sister Virginia "Ginnie" Guenveur and brothers: Raymond, Joseph Paul, and Leslie Guenveur.
Survived by her daughters: Paula Mae McKean (Michael), Agnes H. Magnarelli (Pat), Charleen Hamilton Gately (Timothy); sister Dorothy G. Wells; 8 grandchildren; 8 great grandchildren; nephew Dr. Thomas J. Wells; and many friends who loved her.
A funeral mass will be held Friday at 10am in Blessed Sacrament Church with burial to follow in St. Mary's Cemetery. Friends are welcome to greet the family from 9:00 to 9:45 before the funeral at the Goddard-Crandall-Shepardson Funeral Home.
In lieu of flowers, memorial contributions may be made to Blessed Sacrament School.