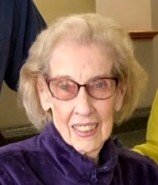 Margaret K. McVicker
Margaret K. McVicker, 95, passed away at Crouse Hospital on April 30, 2019. She was the daughter of Andrew and Agnes Macfarlane and lived her entire life in the house built by her father (a carpenter) in 1920. Her husband of 50 years, J. Robert McVicker, predeceased her in 2010. She had one sister, Catherine M. Kohnke, also deceased.
She was a graduate of Eastwood High School and Powelson Institute and started her business career at the Muench-Kreuzer Candle Company and then the Porter-Cable Machine Company where she became Assistant Secretary of the Corporation. She retired after seventeen years when the company was sold to Rockwell Manufacturing Company.
For the next twenty years she was a homemaker and mother. During this time she was a member of Mothers Clubs and PTA, a girl scout leader, an original board member of EPIC and ENA (Eastwood organizations). She originated the EPIC Arts and Craft Show and was co-chairman for fifteen years.
She was an active bowler, golfer, bridge player and crafter. She and her husband loved to travel (many times with their daughter) and toured most of the United States, Canada, Alaska and British Isles.
She returned to the business world in the early 1980s, working as a part time bookkeeper for various companies. She retired from her last job (Betts, Strickland and Munro Insurance Agency where she worked 25 years) in 2006.
After retirement she wrote two books on Eastwood (the Village Within the City of Syracuse) to preserve the history for posterity. She was considered the "Eastwood Historian" by many. She was responsible for the first Historical Marker for Eastwood at Sheridan Park.
Her last 5 Birthdays were spent at her husband nephew's cottage on Skeleton Lake in Ontario, Canada where she went kayaking, tubing and paddle boarding.
Thanks to all her relatives and friends who made everything possible. She lived life to the fullest, believing if you REST you RUST.
She is survived by her daughter and son-in-law, Carol A. (Jay) Holbrook, grandsons and granddaughters, Zachary, Rebekah, Cori and Jason, all of South Onondaga, her nephew, Andrew W. (Robin) Kohnke and great nephew, James, and great niece, Dora, of Connecticut.
Calling hours will be Friday from 3-7pm at the Goddard-Crandall-Shepardson Funeral Home, 3111 James Street with a Memorial Service at 7pm.
In lieu of flowers, contributions can be made to the Dewitt Community Church or an Eastwood
organization of your choice.