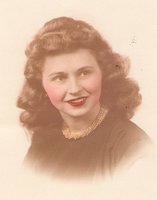 Janina Pieklik
Janina Pieklik, 95, died on Sunday at The Cottages. She was a communicant of Transfiguration Church and a member of the Christian Mothers Club. She had volunteered at Liverpool High School.
She is predeceased by her husband Francis; brothers: Anthony Jastrem, John Jarmacz; sisters: Catherine Jastrzemski, Sister Ann Jarmacz, and Frances Henry. Mrs. Pieklik's family wishes to thank the staff at the Cottages for their care and support.
She is survived by her children: Cynthia (Mark) Fryer of Baldwinsville, Susan (Chris) Miller of New Castle, PA, Mark (Margaret) of Liverpool, Matthew (Nancy) of Kirkville, Christian (Carol) of Liverpool; 8 grandchildren; 3 great-grandchildren and several nieces and nephews.
Funeral services will be held at a time to be announced on Friday at the Goddard-Crandall-Shepardson Funeral Home and in Transfiguration Church. Burial will be in Sacred Heart Cemetery.
Calling hours will be held Thursday from 4-7pm in the funeral home, 3111 James Street.
Memorial contributions may be made to S.P.C.A.