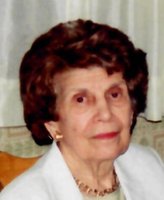 Lena DiFusco
Nicolina (Lena) Iannotta DiFusco
September 16, 2018
Lena DiFusco died peacefully in her sleep on the morning of Sunday September 16, 2018 at Menorah Park. She was 101 years old.
Lena was born in Syracuse, NY and resided on the Northside, then in Eastwood until moving to Menorah Park with her husband, John, in 2009.
Lena worked at Walker Corp. Pharmaceuticals for over 20 years. She was also a talented seamstress, sewing for her children and grandchildren as well as working for Francis Rivizigno, sewing custom curtains for many homes in the area.
Lena enjoyed baking and there were always fresh baked goods in the DiFusco home. She didn't understand how someone wouldn't have "just a little something sweet" after a meal. Her jam cookies, chocolate drops and other Italian treats will be missed.
Lena was predeceased by her husband of 62 years, John; her parents John and Assunta (Susie) Iannotta; her brothers John, Jr. and Silvio; her sisters Mary Barbetta and Olga Canestrano.
Surviving are her sons John (Angela) and Richard (Sharon); four grandchildren, Christopher, Erica, Giovanna and Nicoletta; seven great-grandchildren; sister-in-law Louise Iannotta; brother-in-law Michael Canestrano; and several nieces and nephews.
Services will be held at 9:00 a.m. on Thursday September 20 at Blessed Sacrament Church, 3127 James St., Syracuse. Burial will be at the mausoleum at Woodlawn Cemetery following the church services.
Friends and family may call from 4:00 p.m. to 6:00 p.m. on Wednesday September 19 at Goddard-Crandall-Shepardson Funeral Home, 3111 James St., Syracuse.
The family would like to thank the staff at Menorah Park, particularly Amy and Ellen at The Inn. We are grateful for their kindness and care during John and Lena's transition into assisted living. We would also like to thank the staff in The Terrace unit for providing excellent care and comfort to Lena.
In lieu of flowers, donations may be made to The Foundation at Menorah Park, 4101 E. Genesee St., Syracuse, NY 13214.