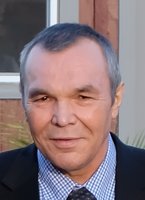 Laszlo Tobak
Laszlo Tobak
September 9, 2018
It is with great sadness that the family of Laszlo Tobak announces his sudden passing, on Sunday, September 9th, 2018, at the age of 62 years at St. Joseph's Hospital.
Laszlo was born in Szentgal, Hungary to parents Terezia and Lorinc Tobak. He immigrated to the United States in 1983 and worked as a building superintendent in New York City for 35 years. In 2018, he retired and moved to Syracuse, NY. Laszlo will be lovingly remembered by his two daughters, Julianna (Shaun) and Szilvia, who he loved more than anything. Laszlo will also be fondly remembered by his siblings in Hungary, Lorinc, Martha and Ana.
A memorial service will be held in New York City at the Hungarian Reformed Church (229 East 82nd St.) on Sunday, September 16th at 11am.