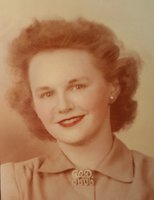 Helen R. Donovan
Helen Donovan
June 13, 2018
Helen Donovan, 98, departed this life peacefully on Wednesday, June 13, 2018. She was a life-long resident of Syracuse, and graduated from Central High School. She was a Gold Star mother and a member of numerous civic and religious clubs. She was a faithful member of the Church and honored God with her life.
Helen was predeceased by her husband, Francis Donovan, her son, Robert Donovan, and her three sisters, Irene Goss, Jean Ace, and Virginia Fabisiak. She is survived by her son, John Donovan of Cazenovia, New York, her sister in law Patricia (Raymond) Moran, and numerous nieces and nephews.
Helen strove to see the good in those she met and had a special compassion for those who are broken or discouraged. She loved God and her family above all else. She particularly enjoyed her pets and their innocence. Many a stray dog found a new home through her efforts.
Calling hours will be held on Friday, June 15th from 4-7 p.m. at the Frasier Shepardson Funeral Home, 1217 N. Salina Street. A Mass of Christian Burial will be celebrated for her at Our Lady of Pompei Church, 310 Ash Street, Syracuse, on Saturday, June 16th at 8:30 a.m. Burial will follow at Assumption Cemetery. May the Angels lead her into Paradise.