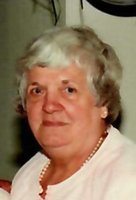 Agnes B. Kruczek
Agnes B. Kruczek
September 28, 2017
Agnes B. Kruczek, 98, of Syracuse, died on Thursday at James Square. Mrs. Kruczek had retired from the Syracuse City School District in 1984 and had formerly worked at the Rustic Inn and the Pub Inn. She was a communicant of Transfiguration Church, a member of the Mother's Club and the Altar & Rosary Society.
She was pre-deceased by her parents Thomas and Helen Wlodarski, her husband Walter and her son Walter Jr.
She is survived byher daughter Mary-Anne (Brad) Surlock of Hastings, NY; her sisters: Celia Salbert of Syracuse, Genevieve Kowalski of South Bend, Indiana; grandchildren: Michael Surlock, Colleen Hart; 5 great grandchildren and several nieces and nephews. Agnes' family wishes to thank the staff at James Square for their care and compassion.
Funeral services are Wednesday at 9am at the Goddard-Crandall-Shepardson Funeral Home and at 9:30 in Transfiguration Church. Burial will follow in Assumption Cemetery. Calling hours will be held Tuesday from 4-7pm at the funeral home, 3111 James Street. Contributions may be made to Transfiguration Church.