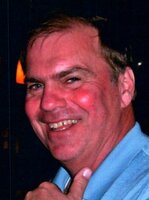 Thomas G. "Tippy" Smith
Thomas "Tippy" G. Smith, passed away at Crouse Hospital after a long illness 5 days shy of his 75th birthday. He grew up on Sherwood Avenue and graduated from LeMoyne College where he majored in playing cards. He loved to "teach" others to play cards. He retired from Onondaga County Social Services at 55 years old. He was a loving, gentle soul who loved almost everyone he met. He enjoyed his family, friends, hunting, fishing and Miller Lite. Camp was the best place on Earth for all of us. Tippy especially loved watching his grandson grow up and attended all of his sporting events. He always had a Milk Bone or a Freezer Pop to hand out. He was a devoted man and will be sorely missed.
Tippy leaves behind his loving wife Nancy; his daughter Candy; grandson Douglas (Lauren); 2 great grandsons: Grayson and Raydon; his beloved brother Casey (Eileen); sisters: Carolyn (Paul), Betsy (Michael); several nieces, nephews, cousins and friends.
He joins his son Brian and his parents in heaven.
Calling hours are Friday, November 25th from 4-7pm at the Goddard-Crandall-Shepardson Funeral Home. The funeral mass will be Saturday at 10am in St. Daniel's Church.
In lieu of flowers, contributions may be made to Francis House or the SPCA.
Online condolences, www.shepardsonfh.com.