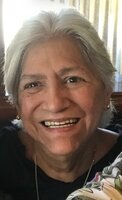 Cheryl Christine "Moogie" Maloney
Cheryl Christine Maloney, "Moogie'' to her family, was born in Syracuse, on May 7th, 1947. On August 19th, 2022, she peacefully passed away at the age of 75 in West Wareham, MA, surrounded by family. Cherie was first diagnosed with cancer in the fall of 2018 and successfully beat it after a hard-won fight. A new cancer developed and she was finally called to join her pre-deceased husband of 49 years, Lawrence Vincent Maloney of Syracuse, and her eldest son Daniel Joseph Maloney (who died while serving in the United States Marine Corps).
Cherie is survived by her three children, Timothy Maloney of Fayetteville and his wife Debra, David Maloney of Waxhaw, NC and his wife Jennifer, and Christine Murphy of West Wareham, MA and her husband Robert. She was very proud of her nine grandchildren: Danielle, Daniel, Christian, Matthew, Meaghan, Nathan, Carson, RJ and Nora, as well as her two great-grandchildren, Kinsley and Charlotte. She is survived by her two sisters, Sarah (Sally) Heater, Carol Downie, her brother Edward (Eddy) Fannetti, and predeceased by her other brother Micheal Nunez. She enjoyed a large extended family of nieces, nephews and their families.
Cherie led a rich and fulfilling professional life, growing a very successful career from part-time insurance clerk at Crum & Forster in Syracuse to a very successful Vice President of Underwriting at Zurich Insurance and XL Insurance in Boston Ma until she retired in 2014. Her devotion to her work was only rivaled by her passion for her family.
Cherie's love of family fueled her quest for genealogy and she spent many years amassing a wealth of information about her family's history and roots. She took great pleasure in sharing new and interesting facts she would uncover from hours of research at national archives and online.
Calling hours will be Friday, August 26th from 5 to 8 p.m. at the Goddard-Crandall-Shepardson Funeral Home. The funeral Mass for Cherie will be at Blessed Sacrament Church on Saturday, August 27th at 9 a.m. Interment will follow in Woodlawn Cemetery
Online condolences, www.shepardsonfh.com.