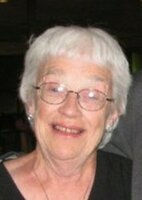 Helen L. Broton
Helen L. Broton, 88 of Liverpool died peacefully on Friday, May 13th, 2022 with her family by her side. She was born on May 23, 1933 in Homer to William and Florence Shanahan. She is predeceased by her husband Donald and her siblings William Shanahan, Mary Kelly, Betty Finney and Kay Corbett.
She worked for many years as a dental assistant before leaving the workforce to bring up her family. Helen was known for her wonderful sense of humor and ability to give strangers compliments. She was also known for making inappropriate comments when it was needed most. She left behind a hell of a lot of stuff to her daughter and sons who have no idea what to do with it. She also left behind a legacy of kindness and compassion that lives on in her grandchildren. Helen and her husband Don were devout members of Blessed Sacrament Church.
Helen is survived by 4 children: Donald Broton Jr (Tonianne) of San Diego, CA, Shawn Broton (Wendy) of East Syracuse, Tim Broton of Syracuse and Amy Broton of Liverpool: 6 grandchildren, Alina, Kelly, Kenzie, Kendall, Emma and Adelyn. She is also survived by her sister in law Barbara Shanahan and several nieces and nephews.
Calling hours will be 4-7pm on Friday May 20th at the Goddard-Crandall-Shepardson Funeral Home. The funeral mass will be held on Saturday at 10:00 at Blessed Sacrament Church. Burial will follow in Saint Mary's Cemetery in Dewitt.
In lieu of flowers contributions may be made to Blessed Sacrament School.