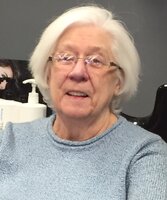 Gabriel A. Kaptan
Gabriel A. Kaptan, 83, of Fayetteville, died on Wednesday, May 4, 2022 at Community General Hospital. She loved spending time with her family, grandchildren and pets. Mrs. Kaptan was also an avid reader, enjoyed traveling and crocheting.
She was pre-deceased by her parents: Ivan and Aurlie White; her husband John and daughter Ann Kaptan-Hearn.
Her surviving family includes her children: John (Jill) Kaptan, Katherine (Terry) Mapstone, Mark (Sharon) Kaptan, Jacklyn (Stuart) Derycke; a sister Laurel Taylor of Cheboygan, MI; grandchildren: John Michael, Matthew, Rebecca, Gabriel, Michael, Gia, Krista, Tracy and Lynn; and several great-grandchildren, nieces and nephews.
Calling hours will be held on Saturday, May 14 from 10-12 pm with a service at the conclusion at the Goddard-Crandall-Shepardson Funeral Home, 3111 James Street, Syracuse 13206. Burial will follow in Pompey Center Cemetery.
In lieu of flowers, contributions may be made to the Humane Association of CNY.
Online condolences, www.shepardsonfh.com.