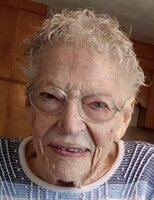 Patricia M. Garvey
Mary Patricia "Pat" Murphy Garvey of DeWitt, Henderson Harbor and DeRuyter Reservoir died on January 18th, 2022 in her home. Born in 1928, she was the oldest of three daughters of Patrick J. and Meta W. Murphy. Pat had a wonderful childhood surrounded by a loving family. She went to Cortland College and became an inspiration to countless children over her 30 years teaching in the Syracuse City School District. She considered each class her "family". On June 26, 1949 Patricia married the love of her life, John "Jack" W. Garvey Jr.. They had four children and built memories that lasted Pat her lifetime. Together they built their homes in DeWitt and Henderson Harbor, where they had their own slice of "paradise". Jack's time on earth ended 1968, but her love for him never faded. We all know he has been waiting for her at the pearly gates and they now continue their love story. Pat was a Parishioner of Holy Cross Church. She was a woman of faith and family and celebrated everyday with gratitude and prayer. Pat would do anything for her family. Always speaking of them with pride and praise and ever expressing her love of them.
Pat is predeceased by her husband John W. Garvey Jr., her son John W. Garvey III, her sisters Kathleen Woodford and Elizabeth Hookway. She is lovingly remembered by her daughters Mary (Eugene) Renske, Kathleen (Paul) Carey and Joan (J.D.) Cowles and daughter-in-law Konnie Garvey as well as her grandchildren, great-grandchildren, and many nieces and nephews.
Anyone that met Garvey would agree that we were lucky to have known her. A mass will be held for family due to COVID. In Lieu of flowers, please cherish the time you have with your family and enjoy each other. "I'll be loving you always".