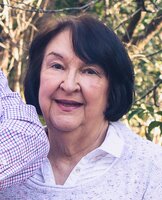 Charlotte Jane Goodman
Charlotte Jane Goodman, 70, of Syracuse, NY, passed away on January 9, 2022. Raised in Athens, PA, she was a proud alumna of Penn State University, ultimately beginning a career in elementary school teaching. An engaged member of the Central New York community, Jane previously served on the Board of the Crouse Irving Memorial Hospital Auxiliary, and had been active in the Manlius Pebble Hill Parents' Association. Her greatest loves included dachshunds, a good police procedural television show, and, of course, her adoring family.
She is survived and lovingly remembered by her two sons: Craig Jr. (Sarah) and Christopher (Heather); her brother David (Lori); two nieces: Michelle and Melissa; her loyal dachshund sidekick, Pumpkin; as well as her three beautiful grandchildren: Craig III, Claire, and Lily.