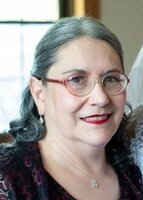 Jacqueline and James III Alpeter
Jacqueline A. Alpeter, 64 and her son James C. Alpeter III, 30, both left on Tuesday, December 14 from Crouse Hospital to dine and live forever with their Lord and Savior, Jesus Christ in a far green country. Jacqueline worked at SU previously from 1983 to 2009 and Jimmy was a graduate of ESM in 2011.
Their surviving family includes her husband and his father, James C. Alpeter Jr.; her daughter and his sister Shari (Nate) Sturgeon; her mother-in-law and his grandmother Harriet Alpeter; his aunts Florence Stassi, Maryjane (James) Carroll; and several cousins including her cousin Cathy Rathbun as well as several relatives on her father Simon's side in Canada.
Calling hours will be held on Wednesday 12/22/2021 from 5-7pm at the Goddard-Crandall-Shepardson Funeral Home, 3111 James Street, Syracuse NY 13206. A celebration of their lives service will be held 12/23/2021 at 11am at Family Worship Center, 8480 Morgan Road, Clay NY 13041. Interment services will be private at Woodlawn Cemetery.
Online condolences, www.shepardsonfh.com.