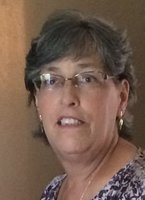 Jeanne M. Tangredi
Jeanne M. Tangredi
April 8, 2018
Jeanne M. Tangredi, 55, of East Syracuse passed away on Sunday, April 8th, at St Joseph's Hospital, surrounded by loving family. She was a customer service representative at People Systems Inc. Mrs. Tangredi enjoyed watching the Food Network and spending time laughing and drinking wine with friends and family.
Jeanne is survived by her husband (James); daughter (Sarah); 5 siblings: John Tighe (Rita), Mary White (Mark), Ann Popule (Mike), Patty Doane (Phil), and Michael Tighe (Cana); as well as her extended family.
Funeral services are Thursday at 8:30 at the Goddard-Crandall-Shepardson Funeral Home and the Mass of Christian Burial will be held at 9 a.m. in St Matthew's Church. Burial will be in St. Mary's Cemetery in DeWitt.
Calling hours will be Wednesday 4 to 7p.m. at the funeral home, 3111 James Street, Syracuse.
The family of Jeanne would like to thank the Oncology Department staff of St. Joseph's Hospital for their kindness and care.