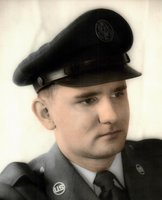 Lawrence E. Krentkowski
Lawrence E. Krentkowski, 90, of Brewerton, NY passed away March 8, 2018.
Born in Syracuse, NY he moved to Brewerton in the1960's. Larry served in the Air National Guard at Hancock Field and attended Syracuse University. For most of his career he was employed at Marine Midland Bank starting in 1959 as an Assistant Manager and retiring in 1982 as Vice President of Commercial Loans.
Larry enjoyed spending time with family and friends and his many trips to Las Vegas. He was predeceased by his parents, Lottie and Felix Krentkowski, and brother, Paul.
He is survived by his nieces, Dianne and Karen, a great niece, two great-great nieces and nephew.
Calling hours are Monday, March 12, from 9:15 AM - 10:15 AM at the Goddard-Crandall-Shepardson Funeral Home, followed by a Mass of Christian Burial at Blessed Sacrament Church at 10:30 AM and burial at Sacred Heart Cemetery, Syracuse, NY.
In lieu of flowers, contributions may be made to the Brewerton Volunteer Fire Department Ambulance, 9625 Brewerton Rd., Brewerton, NY13029.