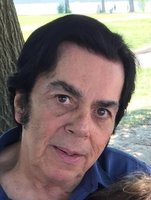 Daniel J. Donovan
Daniel J. Donovan
February 24, 2018
Daniel J. Donovan, 70, of North Syracuse, died on Saturday at St. Joseph's Hospital. He had worked for more than 15 years at Syracuse University. He served a 4 year apprenticeship, was a very precise draftsman and received his Drafting Stamp as a member of Sheet Metal Workers Local 58. He was an artist who enjoyed music, antique cars and traveled to many local & national car shows. His travels also took him to many "Chili-Fests" and he did traverse all of Route 66. He took pride in his family, his resemblance to Elvis and his knowledge of Syracuse history.
He is survived by his daughters: Colleen Donovan (Clay Lafrenz), Bridget Donovan; brothers: Teddy Jr. (Christine), William (Mary Beth); sisters: Sally Silvaggio, Dale Luckette , Patricia (Anthony) Nuzzo; grandchildren Kieran Patel, Sachi Patel, Nora Lafrenz, Meghan Lafrenz; and several nieces and nephews.
Funeral services will be held on Thursday at 9:30am at the Frasier-Shepardson Funeral Home and at 10am in St. Margaret's Church. Burial will follow in St. Mary's Cemetery. Calling hours are Wednesday from 4-7pm at the funeral home, 1217 N. Salina Street. Memorial contributions may be made to St. Margaret's Church.