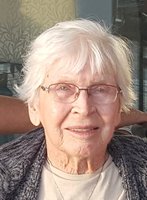 Mary Agnes Dunham
Mary Agnes Dunham
February 12, 2018
Mary Agnes Dunham, 90, of Bradenton, Florida and formerly of Syracuse died on Monday in Florida. She was a member of the PTA, Living Rosary & Altar Society and Blessed Sacrament Church. She also participated in the Woman of St. Joseph's Church in Bradenton, Legion of Mary and Home Bureau. She was pre-deceased by her husband Floyd in 2009, son James in 2009, daughter Karen in 1997, brothers: John (Shirley) and James (Patricia) Carolin, and sisters Shirley (Querino) Liberatore, Joan King, Eleanor (Donald) Hockenbrook .
She is survived by a brother Robert Carolin (Carol); sister: Patricia (Philip) Krick; brother-in-law Francis King; and 28 nieces and nephews.
Funeral services are Monday at 8:30 at the Goddard-Crandall-Shepardson Funeral Home and at 9am in Blessed Sacrament Church. Burial will be in St. Mary's Cemetery in Dewitt. Calling hours are Sunday from 2-5pm at the funeral home, 3111 James Street.
Memorial contributions may be made to the Blessed Sacrament Church Outreach Program.