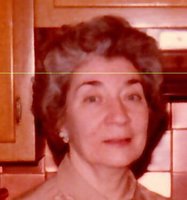 Virginia H. Sakowski
Virginia H. Sakowski
February 3, 2018
Virginia H. Sakowski, 92, of the Manlius Home in Manlius, died of natural causes at St. Joseph's Hospital on Saturday, February 3, 2018.
She was pre-deceased by her husband Edward W. Sakowski, parents Alessandro & Anna Gonnella and brother Dennis Gonnella. Mrs. Sakowski was formerly employed by Liberty Bakery. She enjoyed cooking, making homemade pasta, was a premier puzzle maker and had a green thumb. She cherished all of her family, especially her grandchildren and great grandchildren.
She is survived by her children: Edward (Sheila) Sakowski of Micco, FL, Anna (Larry) Caffarelli of Victor, NY, John Sakowski of Fort Worth, TX, Maria (John) Murlin of East Syracuse, Virginia (William) Raphael of East Syracuse; a sister Elizabeth Terrinoni of Jamesville; grandchildren: Nathan & Micah Caffarelli, Laura Castro, Thomas & Jane Murlin, Lisa & Alec Raphael; and 5 great grandchildren.
Visitation will be held on Thursday from 2-5pm with a service at the conclusion at the Goddard-Crandall-Shepardson Funeral Home, 3111 James Street, Syracuse.
Memorial contributions may be made to St. Matthew's Church, 229 West Yates Street, East Syracuse 13057.