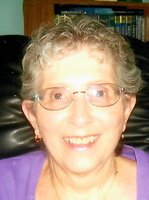 Margaret R. "Margo" Planty
Margaret R. "Margo" Planty, 76, of North Syracuse, died on Wednesday at St. Joseph's Hospital. Mrs. Planty had retired from St. Daniel's School. She was an active member of the St. Rose of Lima parish and was a member of the Altar & Rosary Society and chair of the annual Bazaar. She was the former president of the Allen Road PTO.
She was pre-deceased by her parents: August "Pat" and Marjorie Seager Koagel, and her brothers Patrick and Michael Koagel.
She is survived by her husband Ronald; daughters: Karen Cahill of Fayetteville, Susan (John) Bottjer of Land O'Lakes, FL; sons: Michael (Michelle) Planty of Derwood, MD, Ronald Jr. of Derwood, MD; sister Kathleen (Richard) Linder of Syracuse; grandchildren: John & Patrick Cahill, Heide & Tyler Bottjer, Samuel & Charles Planty; and several cousins.
Funeral services will be held Monday at 9:30 at the Frasier-Shepardson Funeral Home and at 10am in St. Rose of Lima Church. Interment will follow in Our Lady of Peace Mausoleum. Calling hours will be held Sunday from 2-5pm at the funeral home.
Contributions may be made to P.K.D. (PKDcure.org) or the Make A Wish Foundation.