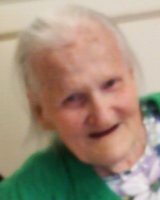 Lucy Jane Voll
Lucy Jane Voll
May 17, 2017
Lucy Jane Voll, 96, of Syracuse, died on Wednesday at Central Park Rehab. She had formerly worked as a cleaner in Lincoln Bank and worked at Cottage Bakery. She was known as the Mayor of Park Street for many years. She was pre-deceased by her husband Lawrence Voll and sons Robert Zielinski, Steven Voll, and daughter Elizabeth Gigliotti.
Mrs. Voll is survived by her daughter: Patricia Furco of Florida; sons: Joseph and Albert Voll of Syracuse and many grandchildren, great-grandchildren and great-great-grandchildren.
Funeral services will be held Monday at 11am at the Frasier-Shepardson Funeral Home. Burial will be in Assumption Cemetery. Calling hours will be held Sunday from 2-5 at the funeral home, 1217 N. Salina Street.