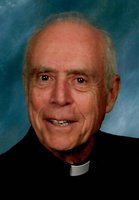 Rev. Alfred E. Nortz
Rev. Alfred E. Nortz
April 25, 2017
Father Nortz was born in Syracuse on July 22, 1928 and ordained to the Priesthood on February 2, 1955. Over his 50 years of active ministry he served in many parishes throughout the Diocese of Syracuse: Blessed Sacrament in Utica, Holy Family in Fairmont, Blessed Sacrament in Johnson City, St. Ann's in Hinckley, St. Joseph's in Boonville and finally his beloved St. Vincent de Paul Parish in Syracuse; where, as pastor, he ministered to the people for 27 years before retiring in June, 2005. He then moved to The Tommy Coyne Residence for Priests (Pius X) and the Nottingham where he continued to minister in parishes in the Syracuse area when and where the need arose. As his health declined, he moved to Menorah Park and finally to Francis House. The family is most grateful to the Staffs at both Menorah Park and the Francis House where he received outstanding compassionate care until his peaceful death on Tuesday, April 25, 2017.
Father Nortz was predeceased by his mother Agnes Ruth Monnat Nortz, his father Norbert A. Nortz and his three brothers: James E., William H., and Gary A. Nortz.
He is survived by his brother Joseph (John Sullivan) of Lakeworth, FL, Sister Monica Agnes, CSJ of Syracuse, and Joan A. Nortz of San Francisco, CA, his beloved sister–in–law Barbara Nortz, and many treasured nieces, nephews and cousins.
Calling hours will be Friday from 4-7pm in St. Vincent dePaul Church with a priest's prayer vigil held at the conclusion. The funeral mass will be held on Saturday at 10am in the Church with burial to follow in St. Mary's Cemetery in Dewitt.
In lieu of flowers, donations may be made to the Sisters of St. Joseph's Retirement Fund, St. Joseph's Provincial House, 385 Watervliet–Shaker Rd., Latham, NY 12110, or The St. Vincent dePaul Funeral Hospitality Committee, 342 Vine Street, Syracuse 13203.